0.6/1KV PVC insulated cables are currently widely used products in power systems. Their structures are stable. Different cable specifications can be selected according to the system used, such as three-phase four-wire system, three-phase five-wire system, etc.
The cross-section range is large.Conductor materials can be selected from aluminum, copper, aluminum alloy and other materials.
According to customer demand, it can be manufactured according to the standards of different countries
Its main performance parameters are as follows:
AC rated voltage(UO/U): 0.6/1KV
The maximum operating temperature of PVC is not more than 70℃.
Minimum ambient temperature: -15 ℃
The cable installation and laying temperature should not be lower than 0 ° C
The allowable bending radius of the cable is specified in Table 1.
item
single core unarmoured cable
single core armoured cable
3-core unarmoured cable
3-core armoured cable
Minimum bending radius during installation
20D
15D
15D
12D
Minimum bend radius for cables close to junction boxes and terminals
15D
12D
12D
10D
Table 1 Allowable bending radius of cables
Features
Good performance
The product has good performance on electrical characteristic, chemical resistance, such as acid resistance,alkali resistance and organic solvent resistance.
Laying not limited by pressure drop
The product can be laid on any head drop condition even vertically in any place, that is to say, the cable can be laid without limit on head drop.
Application
This product is suitable for distribution networks, industrial devices and other fields. It is used for fixed laying on power transmission and distribution lines with AC 50Hz and rated voltage 0.6/1kV. The main function is to transmit electric energy. This product is used under normal conditions, not suitable for occasions with special conditions, such as aerial, underwater, marine, submarine, nuclear power plants, etc.
Construction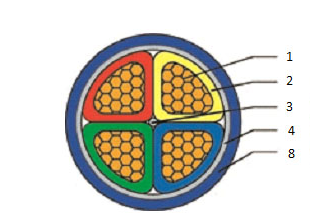 Performance
IEC60502----Single core, Copper Conductor, PVC Insulated Power Cable
Nos×mm2
Nominal Thickness of Insulation mm
Approx
Copper
Overall
Dia. mm
Approx
Copper
Weight
kg/km
Approx
Aluminium
Overall
Dia. mm
Approx
Aluminium
Weight
kg/km
Max. DC Resistance at 20℃
Copper
Ohm/km
Max. DC Resistance at 20℃
Aluminium
Ohm/km
Recommending Current Rating A
Copper
In Ground
Recommending Current Rating A
Copper
In Air
Recommending Current Rating A
Aluminium
In Ground
Recommending Current Rating A
Aluminium
In Air
1×1.5
0.8
6.1
51
-
-
12.1
-
20
30
-
-
1×2.5
0.8
6.5
63
6.48
48
7.41
12.1
26
40
28
21
1×4
1
7.7
88
7.73
63
4.61
7.41
35
52
37
29
1×6
1
7.9
111
7.88
76
3.08
4.61
43
64
48
38
1×10
1
8.7
156
8.69
94
1.83
3.08
30
87
61
49
1×16
1
9.6
218
9.62
120
1.15
1.91
80
111
80
65
1×25
1.2
12.0
335
11.96
177
0.727
1.2
103
144
103
84
1×35
1.2
13.1
437
13.1
217
0.524
0.868
121
172
121
100
1×50
1.4
14.9
577
14.86
280
0.387
0.641
152
205
147
122
1×70
1.4
16.7
790
16.66
360
0.268
0.443
189
250
178
155
1×95
1.6
19.2
1078
19.2
482
0.193
0.32
236
300
215
194
1×120
1.6
20.8
1326
20.81
573
0.153
0.253
273
344
246
222
1×150
1.8
23.0
1625
22.99
700
0.124
0.206
315
389
278
255
1×185
2
25.5
2025
25.51
866
0.0991
0.164
362
438
315
300
1×240
2.2
28.8
2631
28.76
1107
0.0754
0.125
430
505
367
355
1×300
2.4
31.8
3274
31.82
1362
0.0601
0.1
498
572
414
411
1×400
2.6
35.4
4145
35.43
1700
0.047
0.0778
582
649
477
488
1×500
2.8
39.2
5178
39.22
2096
0.0366
0.0605
671
733
545
566
1×630
2.8
43.6
6668
43.63
2627
0.0283
0.0469
765
821
619
660
1×800
2.8
48.1
8394
48.14
3234
0.0221
0.0367
870
910
697
766
1×1000
3
53.5
10495
53.5
4017
0.0176
0.0291
-
-
771
866
IEC60502--Two Cores, Copper Conductor, PVC InsulatedPower Cable
Nos×mm2
Nominal Thickness of Insulation mm
Approx
Copper
Overall
Dia. mm
Approx
Copper
Weight
kg/km
Approx
Aluminium
Overall
Dia. mm
Approx
Aluminium
Weight
kg/km
Max. DC Resistance at 20℃
Copper
Ohm/km
Max. DC Resistance at 20℃
Aluminium
Ohm/km
Recommending Current Rating A
Copper
In Ground
Recommending Current Rating A
Copper
In Air
Recommending Current Rating A
Aluminium
In Ground
Recommending Current Rating A
Aluminium
In Air
2×1.5
0.8
9.9
112
-
-
12.1
-
28
19
-
-
2×2.5
0.8
10.7
141
10.66
110
7.41
12.1
36
26
28
20
2×4
1
12.4
197
12.44
147
4.61
7.41
47
34
37
27
2×6
1
13.7
249
13.6
178
3.08
4.61
60
42
48
36
2×10
1
15.1
347
15.08
222
1.83
3.08
81
59
62
47
2×16
1
17.0
483
16.94
284
1.15
1.91
106
79
82
61
2×25
1.2
18.2
679
18.2
366
0.727
1.2
132
100
106
78
2×35
1.2
19.6
876
19.62
444
0.524
0.868
164
122
127
95
2×50
1.4
22.1
1157
22.08
571
0.387
0.641
196
150
154
117
2×70
1.4
24.8
1590
24.76
742
0.268
0.443
244
183
185
144
2×95
1.6
28.3
2160
28.27
987
0.193
0.32
291
233
222
183
2×120
1.6
30.5
2664
30.52
1180
0.153
0.253
328
272
260
211
2×150
1.8
33.6
3257
33.58
1435
0.124
0.206
371
311
291
239
2×185
2
37.3
4075
37.31
1786
0.0991
0.164
418
356
328
278